DISCLOSURE: As an Amazon Associate, I earn from qualifying purchases.
Two Home Remedies to Clean THC From Your Hair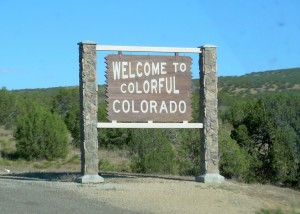 Sooo… marijuana is now a legal drug in my home state of Colorado.
But Coloradans can still get fired for smoking pot, because THC remains on the list of banned substances for the vast majority of companies here. Marijuana also remains on the list of drugs detectable by the hair drug test.
And THC stays in your hair a looong time.
So if you have a hair drug test coming up – even if you live in Washington or Colorado – you still need a way to get traces of THC out of our hair.
The good news is that there are two proven THC detox procedures that can help you pass your next hair drug test.
---
What Would You Like To Know?
Use this Table of Contents to jump straight to the topic you're most interested in.
---
How THC Gets Into Your Hair
I will be quick here, but it's important to understand what's going on when you smoke marijuana & what labs are actually testing for to understand why certain cleaning regimens work and others don't.
First thing you need to know:  the hair drug test doesn't test for the presence of THC (∆9-tetrahydrocannabinol).
Instead, test labs are looking for minute concentrations (50 ng/mL) of THC-COOH (11-nor-9-carboxy-THC) in your hair sample.
THC-COOH is a metabolite (byproduct) that's created when THC is broken down in your body.
THC-COOH gets into your hair in two ways:
most of it is deposited onto the hair shaft by your sweat glands.
some of it gets through your bloodstream into the hair follicle.
A lot of people think it's just one or the other. You see a lot of religious debate online about this.
This research graphic below shows the many ways THC and THC-COOH get into and onto your hair (courtesy of Nature.com).
Keep in mind that the hair test only detects the TCH-COOH metabolite, not THC nor the other cannabinoid shown in the graphic.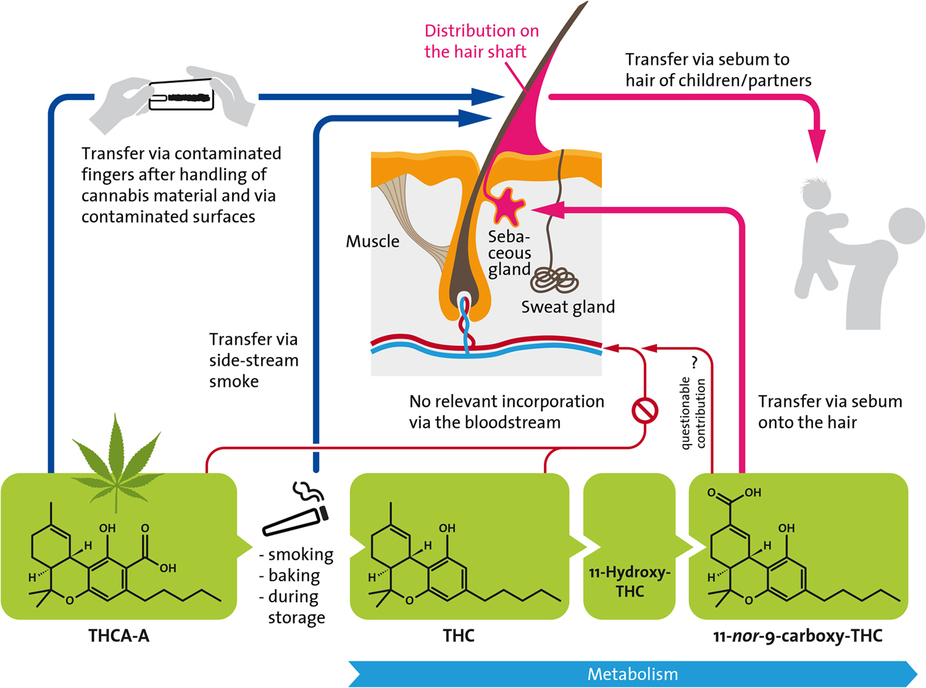 In this diagram, note that THC can be deposited onto your hair through contamination and second-hand smoking, but THC-COOH can only be transmitted to your hair after first passing through your blood.
If TCH-COOH got into your bloodstream, then it proves that you ingested or inhaled a THC product.
This is why labs test for the byproduct, and not THC itself.
Cleaning your hair with strong chemicals and shampoos removes the portion of TCH-COOH that is deposited by your sweat glands onto the surface of your hair.
---
Your Best Plan of Action
OK enough of the science.
Since this is a mobile site, I'll get right to the point.
Here is the most proven plan for stripping THC (THC-COOH) out of your hair:
The Best THC Detox Plan for a Hair Drug Test
If you want to remove traces of THC from your hair prior to a hair drug test, then your best plan of action is to do the following:
Clean your hair several times during the week leading up to your test.
The night before and the morning of your drug test, wash your hair using one of the recommended shampoos in the table below.
Drink plenty of fluids during the 24 hours leading up to your test, in case the lab decides to test your urine, too.
Add a supplement or herbal, if you want.
Don't waste your money on THC detox drinks – unless you're worried about the urine test, too.
Keep reading to learn more about the Macujo and Jerry G methods, including step-by-step instructions and supply lists.
(touch the "↑ BACK TO TOP" button to return to this list)
---
Get a Copy of This Guide by Email
Enter your email below and we'll send you everything on this website in a neatly organized 24-page eBook (.pdf) that you can read later on – or share with others.
---
Two THC Detox Procedures You Can Do At Home
Hundreds of people swear that two home remedies – the Jerry G method and the Macujo/Growman method – will strip THC metabolites from your hair and help you pass the hair drug test.
Both are pretty simple. But they rely on harsh chemicals, so they're hard on your hair.
But, you ask: do they work?
As you might expect, drug test labs say they do not.
On the other hand, there are hundreds of people who claim they absolutely do. Like this guy,  this young man,  this happy person  and  this fine lady.
I'll leave it to you to decide who you trust.
---
The Macujo Method
The Macujo cleaning procedure was first described on Marijuana.com in the early 2000s.
In 2007, a Grasscity.com user named Growman talked about his success and the Macujo method accelerated in popularity.
Macujo/Growman is the most frequently discussed THC home remedy on forums and social networks like Reddit.
The Macujo process deep-cleans your hair using an older formula of Aloe Rid shampoo; acetic acid (vinegar); salicylic acid shampoo; and laundry detergent.
The Macujo/Growman method clearly works for many people, but it's hard on your hair and may chemically irritate your scalp.
Supplies

 TIP:  Don't buy the 'old formula' on Amazon. People have paid lots of money for it, but received the new formula instead (WHICH DOES NOT WORK).  Check the 1-star reviews on Amazon to see what I mean.  
Salicylic acid shampoo like Clean and Clear pink (2% Salicylic Acid) or Neutrogena T/Sal (3%).
Tide detergent: liquid form, available at any grocery store
Heinz vinegar: available at any grocery store
Shower caps: buy at least a dozen
Goggles: to keep your eyes from burning
Directions
Follow the cleaning procedure detailed below at least 5 times over the 3 days prior to your hair drug test.
Choose a deep sink where you can rinse your hair thoroughly with LOTS of warm water.
Wet your hair thoroughly with warm water.
Pour Heinz vinegar on your head and massage it into your hair all the way down to the scalp. Keep the vinegar away from your eyes – it will burn like hell.
Put the goggles on. Pour a dollop of Clean and Clear Pink or Neutrogena into your hand and massage it into your hair. This will probably burn your scalp a bit. Wipe and clean all exposed skin – especially your ears, eyebrows and forehead.
Put a shower cap on your head and let it sit for 30 minutes. Keep a wet towel handy to wipe away any Clean and Clear that drips out of the shower cap. You'll look really dumb at this point, so take a selfie for posterity.
Remove the shower cap & rinse your hair thoroughly.
Wash & rinse your hair twice with Aloe Toxin Rid shampoo.
Place a very small amount of Tide into your hair to finish wash everything out. Use lots of warm water to rinse. Keep rinsing until your hair squeaks like you've never experienced before.
Note: this procedure is hard on your hair and will remove all essential oils. You may want to follow with a conditioner, but wait at least an hour before doing that.
---
The Jerry G Method
In 2008, a user named "Jerry_G" started a thread on Cannabis.com discussing a new bleach-and-clean method he claimed was "90% effective" against the hair follicle drug test.
According to Jerry G, the method works because bleaching opens up the hair cuticles, making the metabolites easier to clean – as depicted in the graphic below:
Since his original post, many people have backed Jerry's claim that this is one of – if not the – most effective way to strip THC metabolites out of your hair.
The main downside of this method is that repetitive bleaching destroys your hair. This is probably why the Macujo method is preferred.
Supplies
    
peroxide bleach
Hair dye (your original color)
Baking soda
Directions
The process is simple: bleach and re-dye your hair, twice.
Note: your hair will get damaged. A lot of people cut their hair after this procedure.
Perform the first bleach-and-dye on the day you quit using. Ask your hairdresser (or a fake blonde friend) how to bleach your hair properly using peroxide. For the re-dye, just follow instructions on the package.
The second bleach-and-dye should be done at least 10 days after your last use of marijuana. If you have little or no time, then the second bleach and redye should be done as close to the test as possible.
On the day of the test, make a thick baking soda paste w/ water and massage it into your hair. Then, do a full Toxin Wash treatment followed by a full Zydot treatment. Some people do step this several times.
---
Which THC Detox Products Really Work?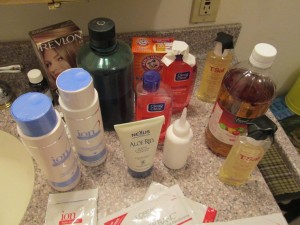 Many people who use the Macujo and Jerry G methods also use products like shampoos, detox drinks and supplements to give themselves a little extra luck.
Listed below are the products that seem to work – and don't work – for the hair test, based on my research of forums, discussion boards, friends and customer ratings online.
Detox Shampoos
Some detox shampoos really seem to work for a large number of marijuana users.
I say some, because a whole lot of so-called detox shampoos aren't any different than the shampoos you use every day. They just carry a different label.
The best-known THC detox shampoo is Aloe Rid  – but only the old formula (Aloe Toxin Rid). It's expensive as hell, but worth it.

To help you sort through the rest, I studied the successes of real pot smokers documented on popular weed forums including hightimes.com, cannabis.com and grasscity.com.
In addition, I went through hundreds of user reviews posted on popular drugstore and retail sites like TestClear.com, Drugstore.com, Amazon.com, Walmart.com and more.
In the end, I narrowed the list of shampoos down to a few who meet the following two criteria:
there are multiple independent claims of passing a hair drug test due solely to this product.
the shampoo is rated three stars or better on popular retail and drug testing websites
Detox Drinks
Detox drinks are popular with pot smokers. There are dozens of examples online of people who claim a detox drink saved the day.
Almost all of these examples involved urine or saliva tests.
But the question I am trying to answer on this site is: do detox drinks work for the hair drug test?
After hours of researching online, I found no direct evidence that detox drinks helped anyone pass a hair drug test.
There are plenty of examples of people using the Macujo or Jerry G method and then finishing them off w/ a detox drink.
But I couldn't find a single example where a detox drink was the only thing used to beat the test.
This actually makes sense, because the main benefit of consuming a detox drink is that your body fluids are diluted with water and the THC is masked in your body fluids.
But hair isn't a body fluid.
Enough said: do not rely on detox drinks to save your job.
Food Supplements and Pills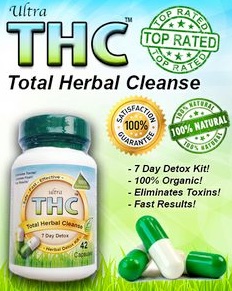 A third type of THC detox product used by many marijuana users is consumables. This includes food supplements, herbs and pills.
My research revealed a lot of conflicting information.
On one hand, all of the product manufacturers claim their products work and some provide clinical evidence to prove it. Many offer money-back guarantees, too.
On the other hand, I found almost no claims from people consumed one of these products (only) and successfully passed a hair drug test due to that product.
I'm not saying consumables don't work. I'm just saying that I can't find independent examples of people saying the use of just that product caused them to beat the hair drug test.  If you know of any direct evidence that a particular product worked on a hair drug test, then please leave a comment below so we can share it!
As with detox drinks, you'll find plenty of people who add supplements to their Macujo and Jerry G cleaning regimen.
My take on consumables right now: most of these products are safe and organic, so you don't have much to lose by adding them to your regimen. If you think a supplement will help, then go ahead and take it.
But I wouldn't rely on consumables alone to save your neck, m-k?
Best of luck on your next hair test!
– J.Z.
---
Get a Copy of This Guide To Keep Or Share
Enter your email below and we'll send you everything on this website in a neatly organized 24-page eBook (.pdf) that you can read later on – or share with others.