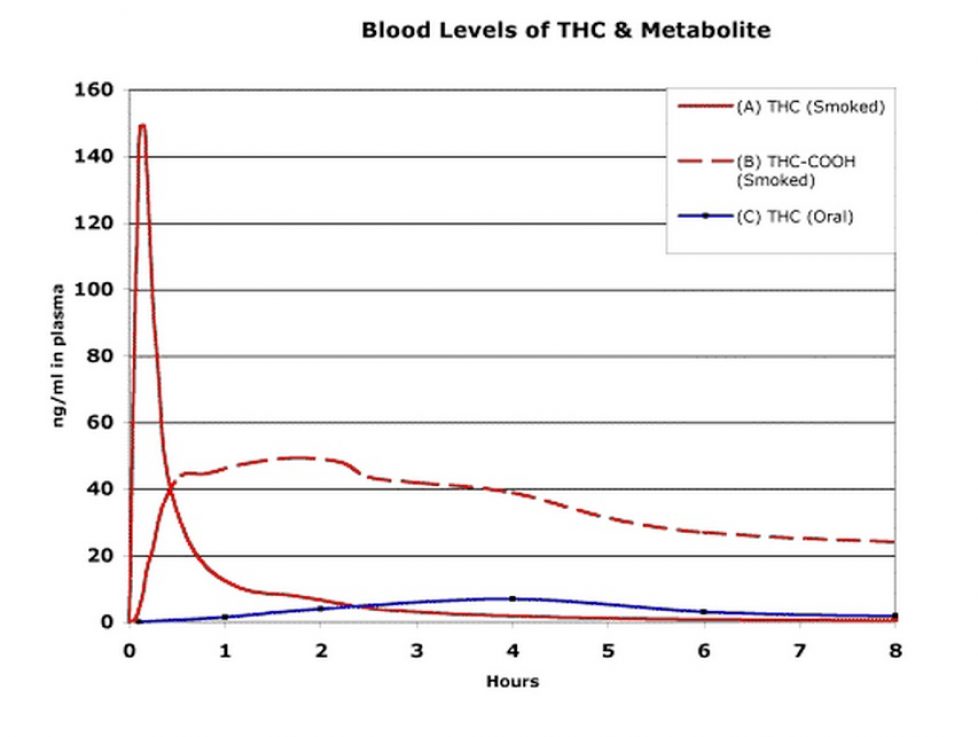 DISCLOSURE: As an Amazon Associate, I earn from qualifying purchases.
How Long Does Weed Stay In Your Hair?
According to a recent Quest Diagnostics survey, 50% of all drug test positives are for marijuana.
This makes marijuana users the most-frequently targeted drug users in the world.
Which is really ironic, since natural weed is the least dangerous of all illicit drugs.
Even worse, marijuana remains in your system a long time – far longer than any other drug.
But exactly how long does weed stay in your body?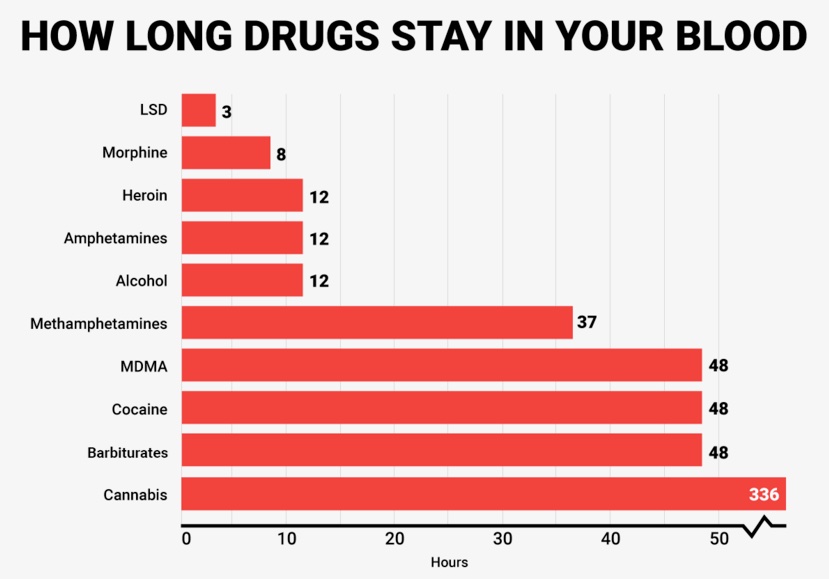 If you are facing a drug test soon, this is an important thing to know.
If you're facing a hair drug test, then it's by far the most important thing you need to know, because hair drug tests can detect marijuana use as far back as a year!
This page walks you through the answer to this question, based on scientific facts – not urban legend.
If you have any questions or corrections, please post a comment below.
I check comments about once a week.
---
What Would You Like To Know?
Use this Table of Contents to jump straight to the topic you're most interested in.
---
Get a Copy of This Guide by Email
Enter your email below and we'll send you everything on this website in a neatly organized 24-page eBook (.pdf) that you can read & share with others.
---
Drug Test Detection Times for Marijuana
How far back in time can drug tests detect your marijuana use?
Here is a table that lists reliable detection periods for each type of drug test:

NOTE: These are just averages, and your experience may vary.
Detection time depends on the kind of test used and the sensitivity of the test process and equipment used (they aren't all the same).
Other factors that affect the accuracy of a drug test for marijuana include:
the frequency of use
the dosage/concentration of THC
the last date/time of use
the user's metabolism (but not as much as people think)
the user's digestive system (if ingested).
---
How Long Does It Take for THC To Leave Your System?

The following chart illustrates the results of two studies that measured the amount of THC and THC metabolite (THC-COOH) in the blood streams of a large number of marijuana users, over an extended period of time.
It shows how blood levels of THC and the metabolite decay, or dissipate, over time depending on whether you smoked or ate your weed/hash.
Please note that this chart displays the average blood levels for a group of people. Each test subject used a different amount of marijuana, and your chart would look different depending on how much and how frequently you used, etc.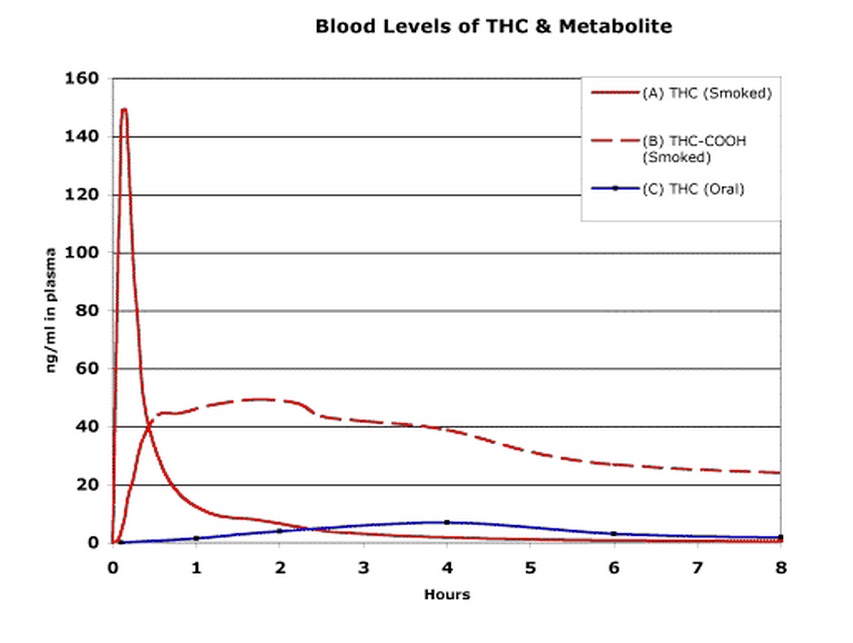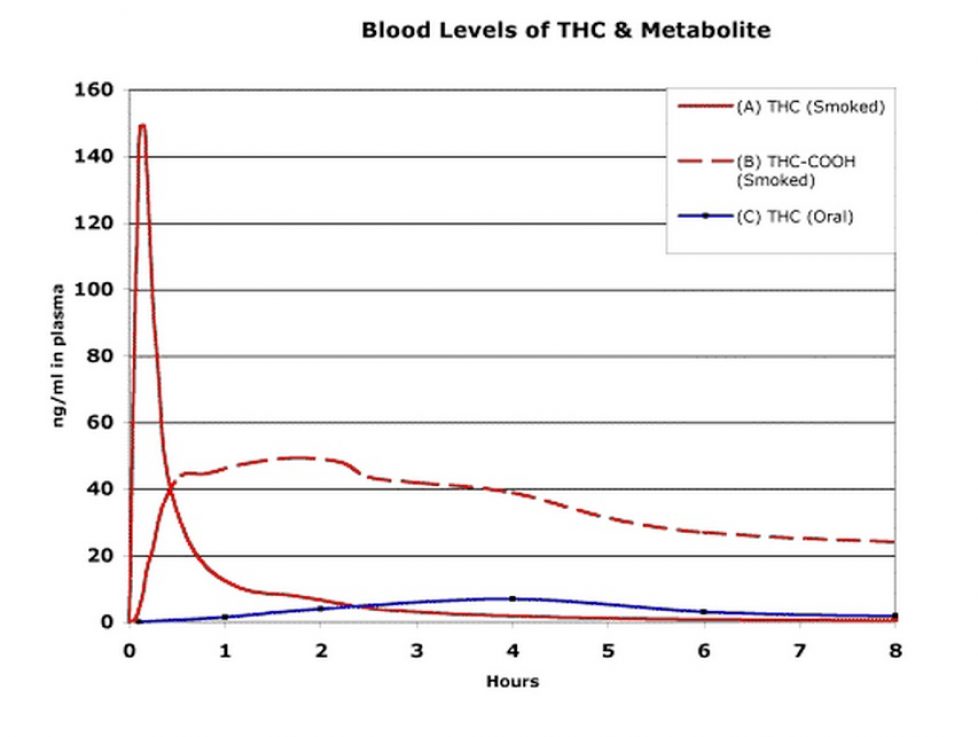 Three things are notable about this chart:
if you smoke weed, your THC blood level spikes high-and-quick, then quickly drops below the typical drug test threshold of 50 ng/mL
if you eat the same amount of THC in an edible, your blood level of THC builds up far more slowly over time and peaks at a far lower level in about 4 hours, then dissipates slowly
THC-COOH – the metabolite used to detect marijuana use in most drug tests – takes a LOT longer to dissipate than THC.  This is why drug tests look for the metabolite THC-COOH instead of THC.
---
Hair Test for Weed: How Long Does THC Stay In My Hair?
The hair drug test was developed to identify long-term use rather than one-time or infrequent use.
Hair follicle drug tests can detect marijuana use beginning around 7-10 days after first use.
To do this, test labs use mass spectroscopy and other methods to detect the presence of a non-psychoactive byproduct of THC, a metabolite called THC-COOH. 
The cutoff level that most tests consider a positive result for marijuana use is a concentration of TCH-COOH of 50 ng/mL or higher in your blood.
One time and infrequent users of marijuana are much less likely to be detected by a hair follicle test.
A 2006 Forensic Science International study, Cannabinoid Concentrations in Hair from Documented Cannabis Users, found that 85% of daily users tested positive for THC use, but only 52% of smokers who used 1-5 times per week were detected.
Eating or ingesting THC also lowers your chance of being detected vs. smoking the same amount of THC.
To learn more about the hair drug test, check out our home page or our Frequently Asked Questions page.
---
Urine Tests For Marijuana: How Long Does a Pee Test Detect THC?
The most popular kind of THC drug test is the urine test.  
Because THC-COOH takes such a long time to eliminate from your body, urine tests are more sensitive to marijuana than other commonly used drugs. This is why urine tests are the preferred test for detecting recent marijuana use.
Like hair tests, urine tests look for the metabolite THC-COOH, usually with a cutoff of 50 ng/mL.  Urine tests can detect marijuana for days or weeks after use. They can detect marijuana use for days after the high is gone, even in 1-time users.
The following chart shows the results of a recent study of 1-time users of THC.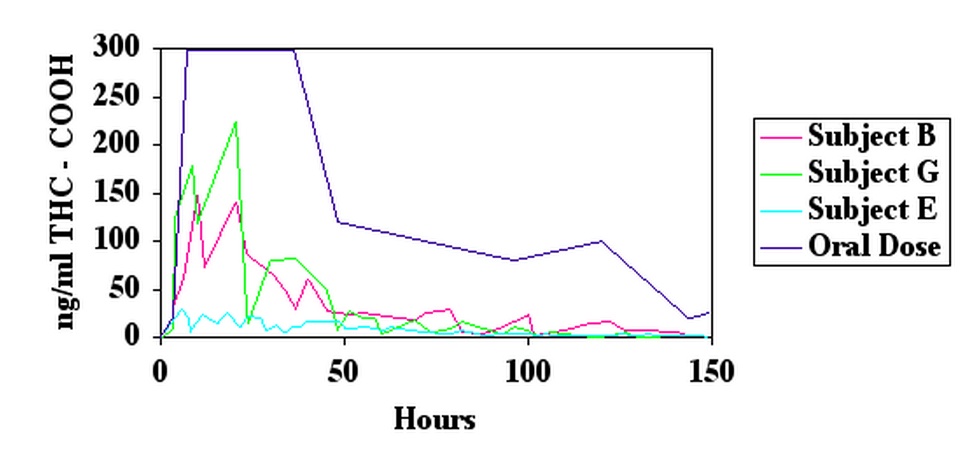 The most striking thing about this study is how variable the results are – from person to person, and from hour to hour for the same person.
Note that it took Subject B two days to get clean. Subject E was safe the entire time.  Depending on the time of day, Subject G might have passed or failed the 50 ng/mL cutoff.
The reason for this variability is that the concentration of THC-COOH in your urine is highly subject to the amount of water in your body (and urine) and your body's metabolism.  If you are poorly hydrated or have a low metabolism, you are more at-risk of failing the urine test.
The bottom-line for the urine test is: to be safe, you should assume you will fail if you use any amount of marijuana within a few days of the test.
---
Blood Tests For THC
A blood test is the most accurate form of marijuana drug test, because it measures the direct presence of THC (delta-9-tetrahydrocannabinol) in your system.
But blood tests only detect drug use back a few days, so they are primarily used in the investigation of accidents and crimes committed under the influence and for spot-testing employees in jobs and professions where any amount of drug influence could be catastrophic.
Blood tests are also ordered in domestic dispute and parole situations, where the court has required abstinence.
---
Saliva Tests for Weed
In general, saliva tests are not used  to detect marijuana use in the US due to unreliable results.
The main problems with saliva testing for THC, as reported by a large-scale 2006 industry research project, the Rosita Project, include:
difficult to obtain enough saliva
malfunctioning of devices that read the results
It's possible, perhaps likely, that the test device manufacturers will continue improving their methods and technologies.
---
Detection Times for Alcohol and Other Drugs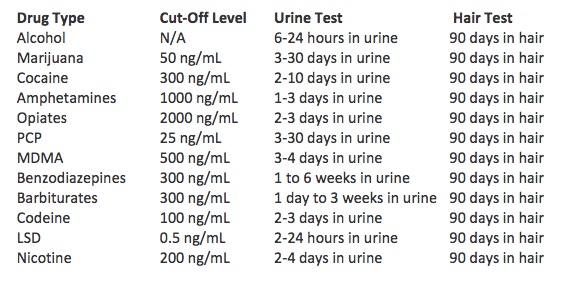 ---
Hair Tests For Alcohol
In the testing industry, the accuracy of the hair drug test for detecting alcohol use or abstinence is hotly debated. In short, the problem is that many common cosmetic procedures can alter the amounts of alcohol-related chemicals that the hair test is looking for.
The hair drug test detects two byproducts of alcohol in the hair follicle, including:
Ethyl glucuronide (EtG)
Fatty acid ethyl esters (FAEEs) including ethyl myristate, ethyl palmitate, ethyl oleate and ethyl stearate
The hair test is not as reliable for alcohol detection as it is for other drugs, because cosmetic treatments can dramatically affect the levels of EtG and FAEEs in your hair. This includes hair straightening, dyeing, bleaching and perming.
In addition, hair products that contain ethanol, such as hairsprays or hair lotions, will affect FAEE levels, though not EtG.
A 2014 survey of 31 test labs held by the Society of Hair Testing concluded that a hair drug test is not, by itself, a reliable indicator of abstinence or excessive consumption of alcohol.
To quote their conclusion:
"It is not advisable to use the results of hair testing for alcohol markers in isolation; all relevant factors surrounding a case must be considered when providing expert interpretation and opinion."
In other words, the accuracy of the hair test for alcohol is considered unreliable if cosmetic activities are not accounted for.
If you think you may test positive for alcohol use, then you may want to use an aggressive cosmetic treatment or an aggressive hair cleaning regimen like the Macujo method and the Growman/Jerry G method.
---
Get a Copy of This Guide To Keep Or Share
Enter your email below and we'll send you everything on this website in a neatly organized 24-page eBook (.pdf) that you can read later on – or share with others.